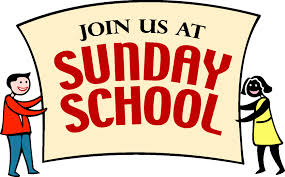 8:30-8:45am: Children meeting the Sanctuary for the beginning of service and the Pastors children's sermon.
8:45-9:30am: Sunday School in Stewardship Hall.
We are excited for another great year of Sunday School!  This year our kids will be continuing with the "Spark" curriculum, which offers lots of different opportunities for learning and fun. Jeanette Baldanza has returned as our superintendent of Sunday School, and we have lots of dedicated teachers this year, as always. If you would like to be involved, please don't hesitate to let Jeanette know. And if you or someone you know has a preschool or school-aged child, be sure to sign them up for exciting Sunday mornings!
Sunday School Instruction
Sunday School classes are offered each week for children ages 3 (as of October 31)  – Grade 8. Each week is special as the children gather to sing, create projects, greet one another, and share their love of Jesus – their Savior and Best Friend.
Become A Part of Our Sunday School – Share Your Faith
If you have any questions or suggestions or would like to volunteer to be a part of the Sunday School, contact Jeanette Baldanza or the church office.
The SPARK curriculum by Augsburg Fortress is used. Spark is a Sunday School faith formation program for kids ages 3 – Grade 8. SPARK empowers kids' creativity and imagination as they explore Scripture through exciting activities that reinforce the lessons.
With SPARK, kids open their Bibles each week and engage in Scripture! Watch them grow in their faith by encountering God's Word while participating in activities that reinforce the Bible stories.
SPARK lessons are designed to engage every child in active learning! Age-appropriate lessons designed for multiple intelligences reinforce key points of the stories and help kids get more out of Sunday school, no matter what their learning style may be.Please note:
We do collect a Sunday School offering. It is an opportunity for the students to learn more about stewardship. Please utilize the Sunday School envelopes you have at home. If you cannot find them, an offering can be placed in an envelope with "Sunday School" written on it. If you did not receive offering envelopes, please send in a note with your child and we'll help secure a set for you.